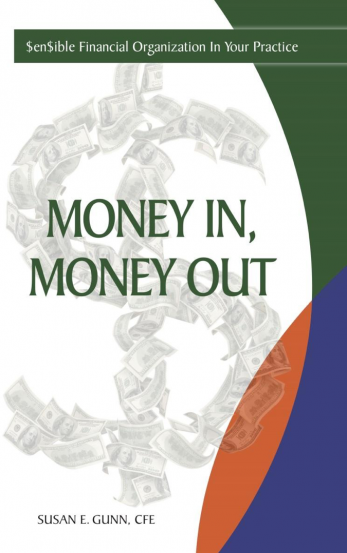 The challenge of dual business software exists. Money In, Money Out does not deal with the step-by-step process of how to use either software, but instead focuses on how the day-to-day process of organizing that financial information can and should be managed ... together.
With dual business software use in the practice, the necessity for a book that defines the systems and procedures in a practice has grown imperative.
Get Valuable, $en$ible Advice on the Business Organization of your Practice!
by Susan Gunn, Healthcare's Financial Organizational Expert
What to do day-by-day, month-by-month, end of year?
How to handle insurance interest payments
What about employee bonuses?
How to choose a CPA
What are you really paying for your merchant card fees?
Do you have a plan for patient collections?






Here what industry leaders have said:
Virginia Moore,
Moore Practice Success
"Susan Gunn knows her stuff and the best part is, she shares in great abundance. Money In, Money Out provides the reader with crystal-clear information and steps about mastering the cornerstone of a successful practice and business, your financial health."



Sally McKenzie,
McKenzie Management
"This book should be in the hands of all new start-up doctors. What a great resource for them to begin their journey as a practice owner."

Teresa Duncan,
Odyssey Management
"This book gives the organized financial foundation which will then protect your revenue and protect your practice. Every practice should have a copy of this book as their resource!"
Kate Willeford, CPA
The Willeford Group
"The business of running a practice can be stressful but Susan Gunn gives business owners the tools they need to decrease stress and improve profitability. I highly recommend this resource for Doctors wanting to improve cash flow!"
Written in easy to understand language, ready to implement format, plus valuable advice from notable industry leaders.

Tips to ensure your financial information is optimally organized to maximize your practice's financial flow.

Downloads included with your book: Practice Management Chart of Accounts, Organized Accountability checklists, Monthly Deposits Spreadsheet, and so much more.

Susan's 40th book, Money In, Money Out offers readers a mesmerizing plot line about financial organization and the spellbinding romantic relationship between the three major players:

#1 Accounts Receivable (Money In),
#2 Accounts Payable (Money Out) and
#3 what's left at the end of the day in your bank account!
Susan Gunn, Healthcare's Financial Organizational Expert
With Susan Gunn, you don't have to pick and choose. As Founder and CEO of Susan Gunn Solutions, Susan has forged a recognized and well-respected path in the healthcare industry as a champion for ethics in business, detection and prevention of embezzlement, and practice management financial systems and solutions that make sense and make money!

Susan's mantra: "Lead with Integrity". She is the primary thought leader in Financial Organizational, the expert in the healthcare industry, and is a pioneer in the field of integrated financial systems using practice management and accounting software. A prolific writer, Money In, Money Out is book #40, in addition to innumerable magazine articles, blogs and healthcare-related books.
As a speaker, Susan's style combines humor and expertise with down-to-earth, practical advice, all woven around her passion for ethics. A Professional Member of the National Speaker Association, her content is relentlessly relevant and real, using a wealth of "You can't make this stuff up!" stories to illustrate.
The American Dental Association recognized Susan as a Financial Matter Expert in 2015, as well as a 'Guidelines for Practice Success' Expert in 2017, 2018 and 2019. She is Member and past Board Member of the prestigious Academy of Dental Management Consultants.
Susan lives in and loves her hometown of Arlington, TX, where she is actively involved in her church and community.
Riveting Speaker. Relatable Author. Reliable Business Consultant.
Ruthless Fraud Examiner.
Copyright 2019 © Susan Gunn Solutions